History of the Temple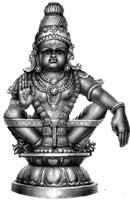 The Vellimuttam Sree Dharmasastha was the family Lord (Bharadevatha) of the famous Pazhoor Mana. The members of Vadakkillam family, as they are the relative of Ayappa by birth, were not allowed to enter and have 'darsan' at Sabarimala. Instead they used to adore Vellimuttam Sree Dharmasastha. It is believed that this temple is of the same age of Sabarimala Temple.

The 'Pokkanaril family, the then rulers of 'Chennam Pallippuram Kara' had taken charge of the Temple administration from Pazhoor Mana. The Lord Sastha who was a great warrior with proficiency in arms and killed Mahishi and defeated Vavar was worshipped by the Pokkanaril family as the 'Kara Nathan' (Lord of the Countryside) who themselves had a kalari (the place where martial arts are taught). The remaining of that kalari is still seen nearby to the temple.
It is told by the old generation that the temple was with all amenities like 'Bhojanasala, Kulippura' etc. But later, as in all other cases of Hindu temples, this temple also was oppressed and at last family head Brahmani Parambathu Krishnakurup was handed over to the then NSS karayogam (No.817). This karayogam was later divided into two to form another (No.4454) and now both the karayogams are jointly administrating the temple